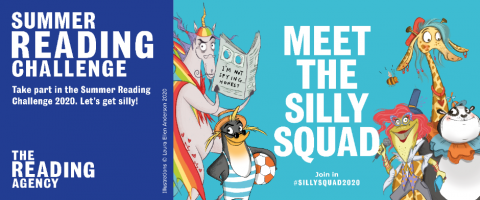 Silly Squad, the 2020 Summer reading challenge is here!
Encourage your children to keep reading this summer and join the library reading challenge.
Although public library buildings are currently closed children still have the chance to take part in the Summer Reading Challenge this year. The challenge has gone digital, find out everything you need to know about how to join, find events and borrow books below.
Watch Apryl and Adam tell you all about the Summer Reading Challenge in Norfolk in this Youtube video.
How to join the 2020 Challenge
Step 1: Join the challenge at www.summerreadingchallenge.org.uk Parents will need to set up their own account first before setting up their children to make sure they have permission to take part.
Step 2: Set your own challenge. We're still encouraging children to read at least 6 books but you can set your own challenge for more – it's a long time until September! You can even adjust it as time goes on.
Step 3: Get reading!
Step 4: After you finish your first book, log back in at www.summerreadingchallenge.org.uk and log your book! Get virtual rewards and unlock new buddies as you get closer to your target.